To say we've been hooked on money-saving apps since discovering ibotta is an understatement. I'm frequently looking for deals on everything that we buy now and have found another neat iPhone and Android app that can save you a little coin on your groceries. Similar to ibotta, Checkout 51 will give you rebates for your "basic" daily purchases. Focusing on grocery items, you can get rebates on items such as milk, eggs, tomatoes, bananas, miscellaneous health and beauty items, and more.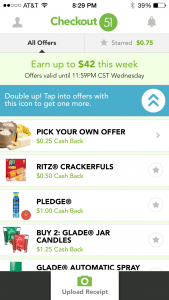 Using the app is simple, maybe too simple, if you're used to having to go through multiple steps to redeem a rebate. After you've browsed the list of possible rebates, take a photo of your receipt and then select the eligible items that you've purchased. Once you've made your selections, submit the receipt image and wait for your rebate confirmation notice from Checkout 51. See, I told you it was simple.
The rate to cash out your earnings is higher than other apps in this category. Set at $20, you'll need to redeem a few purchases before you are able to have your money sent to you.
We haven't spent as much time using this app, so our total earnings aren't as high as what we've received using other apps and services, but this looks to be a nice way to augment your savings, especially on items that you purchase on an every day basis.
Download Checkout 51 today (iOS App Store or Google Play Store) and see how much you can save!