I'll be the first to admit that I'm not a coupon-clipper. I don't spend time searching out the best deal for typical, "every day" items.  When I need to make a big purchase, that's when I'll do some digging and find the best deal that I can. But all of that has changed.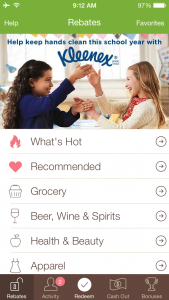 A few weeks ago, I started using ibotta, an iPhone and Android app that gives you rebates for items that you'd purchase any day of the week (and a few that you might not).  Milk, eggs, bread…the basics. Those all have rebates available from stores that we shop at. That's a huge key to the success of this app, and it's appeal.
You don't need to visit a store that you might not be familiar with to make your purchases and save a little money. Target, Walmart, Costco, CVS, and many others are all participating in ibotta's rebate program.
How does it work?
As much as I like to save money, if the process is complicated or consumes too much time, I won't do it. The process to save with ibotta is dead-simple.
Browse through the available products and find what you need to purchase.
Unlock your savings by taking a poll, viewing a video, answering a quick quiz, or learning more about the product, or posting about the item on Twitter or Facebook.
Once you've unlocked the discounts you can make your purchase. Just remember to save your receipt!
After you've bought your items, redeem the discount by scanning the UPC barcode on the products and take a photo of the receipt.
Finally, submit your rebate request and you're done. You'll receive email updates (and app notifications) when your rebate has been approved.
Show me the money!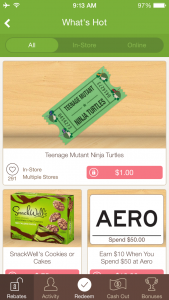 There are a variety of ways to "cash out" your earnings once you've started saving. You can link your PayPal account, Venmo account, or a variety of gift-card options.  You'll need to accumulate a minimum of $5.00 in rebates before you can transfer your funds, but that can be accumulated easily if you find a few great deals to get you started.
Lisa and I have been having great success with ibotta after only a few weeks of use. We have both redeemed over $45 (each) in rebates. That's literally, money in the bank.
A diamond in the rough.
Last week, I replaced my well-used iPhone 4S with an iPhone 5s. No big deal, right? Well, with a possible iPhone 6 right around the corner (and knowing my 4S wouldn't make it much longer), I wanted to make sure I got the best deal I could.  Thankfully, I found a rebate from Best Buy on ibotta that gave me $20 back on a $200 purchase. Coupled with a few additional savings measures, I only needed to spend $100 on a phone that retails for $299.
While the Best Buy rebate is a bit of an edge case, there are similar discounts and offers that you can find on ibotta. You just need to find what works for you.
Other apps and services that can help you add to your savings:
In addition to ibotta, I have been using a few other apps to help maximize my savings. Every little bit helps, right?
If you want to give your everyday savings a boost, give this app a shot.  And while you're at it, please join my ibotta team and start saving today!